Program Duration : 120hrs
Intended Audience: B.E, B.Tech, M.E, BCA, BSc, MSc, PhD
Practicals: Yes
Program Output: Certificate of Excellence
Fancy learning a Data science course from Goa's best? We put everything from Artificial Intelligence (AI) and Machine Learning (ML) into perspective as we build solid fundamentals in this data science for beginners course! Vedasys is the only data science training institute in Goa to offer high quality, real-world problem oriented programs.
Would you like Course details over a FREE Callback?
What is a Data Science course? What is Data science meaning?
In its simplest form, Data science is the study of raw data to extract meaningful information and insights from the same.
It involves developing methods of recording, storing, and analyzing data to effectively extract useful information. The goal of data science is to gain insights and knowledge from any type of data — both structured and unstructured.
Data Science helps humans make better decisions; either quicker decisions or better decisions.
Is Data science in demand? What are some of the top data science applications?
Data science is the hottest technology in present times and it does not look like it is about to change any time soon.
Some common data science applications and deliverables are:
Prediction (predict a value based on inputs)
Classification (e.g., spam or not spam)
Recommendations (e.g., Amazon and Netflix recommendations)
Pattern detection and grouping (e.g., classification without known classes)
Anomaly detection (e.g., fraud detection)
Recognition (image, text, audio, video, facial, …)
Actionable insights (via dashboards, reports, visualizations, …)
Automated processes and decision-making (e.g., credit card approval)
Scoring and ranking (e.g., FICO score)
Segmentation (e.g., demographic-based marketing)
Optimization (e.g., risk management)
Forecasts (e.g., sales and revenue)
Each of these is intended to address a specific goal and/or solve a specific problem.
and more.
Who is a data scientist?
Data scientists are the people who gather huge "lakes" of information and then use their expertise and algorithms they have developed to extract specific information that a user wants.
A data scientist is someone who knows how to extract meaning from and interpret data, which requires both tools and methods from statistics and machine learning, as well as being human.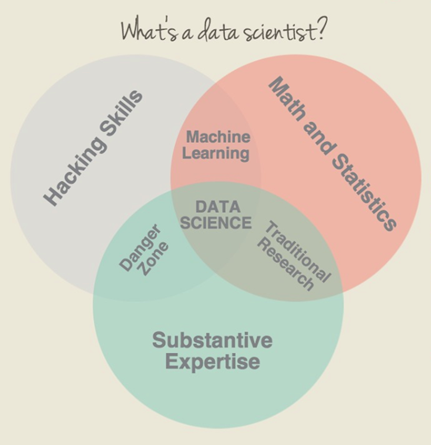 Data scientists help companies interpret and manage data and solve complex problems using expertise in a variety of data niches. They generally have a foundation in computer science, modelling, statistics, analytics, and math - coupled with a strong business sense.
What skills are needed to be a data scientist? What is the correct learning path for data science?
Data science is a vast field data science jobs are exponentially growing every year. A data scientist as such needs to be extremely skilled across a variety of skillsets to be able to function at their best. Learning path for data science is not an exact map, but data sciences are expected to master a major subset of below skills:
Analytical skills
Computer Science
Programming skills (preferably in Python, R, SAS & SQL)
Statistics, Linear Algebra & Calculus
Machine learning, Deep learning & NLP
Big data (Hadoop, Spark, Java)
Data Visualization (Tableau)
Data Ingestion, munging & wrangling
Data driven problem solving
Software development
Neural networks
Data engineering
Excellent communication skills
Data scientists are expected to know a lot. And rightly so. Their actions can lead to multiplier effects for businesses and governments. Data driven decision making is the future but we will heavily depend on high quality data manpower to work on this precious data.
How do I start a data science certification? How do I learn data science from scratch?
The many steps to becoming a capable data scientist are:
Get good at stats, math and machine learning.
Learn to code - Computer science, development and a language.
Understand databases - Data types, technologies store them, and methods to retrieve data.
Explore - Data science workflow - Master data munging, visualization and reporting tools.
Level up with big data. Bigger tools like Hadoop, MapReduce and spark.
Get experience, practice and meet fellow data scientists. Competitions, pet project and developing an intuition.
Internship, bootcamp or get a job
Follow and engage with the community
Data science is a marathon, not a sprint.
Learning data science takes time and personal investment, but the journey is everything but dull!
How do businesses benefit from data science?
Data science is a tool that can be used to help reduce costs, find new markets and make better decisions. Some of the benefits for businesses from investing in data science are as under:
Improved business decision making
Analyzing market trends better
Optimization: Reduced needless spending
Identifies trends - stay competitive
Increases efficiencies
Real-time forecasting
Identify & act upon Opportunities
Promotes low-risk data-driven action plans
Validate decisions through testing
Targeting - delivering relevant products
Mitigating risks & fraud
Personalized customer experiences
About data science careers, what kind of roles or job titles can I expect?
The data science field is hot, and it is unlikely that this will change in the near future. A vast range of careers have grown up in the data science industry. Some of these are:
Data Scientist
Data Analyst
Data Architect
Data Engineer
Statistician
Database Administrator
Business Analyst
Data & Analytics Manager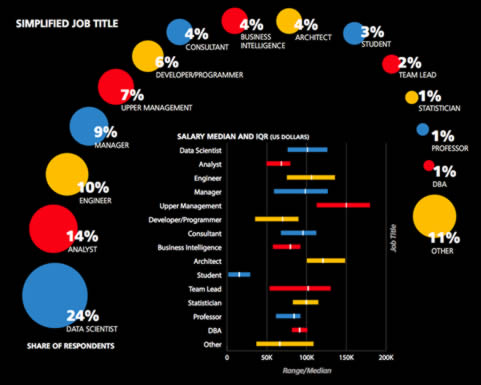 Would you like Course details over a FREE Callback?
How much is a data scientist salary in india?
Given that data science jobs are among the hottest in the industry right now, it comes as no surprise that the average data scientist salary in the US is $118,709, according to Glassdoor.
The driving factor behind increasing data science salaries is that businesses are realizing the power of big data & criticality of using data-driven decision making and want to use it to drive smart business decisions.
A data scientist's salary depends upon several factors:
Experience
Job title
Niche/ Industry
Size of Company
Nation/ Region
Formal Education levels
Some of the more common job roles and salaries are as under:
Database Administrator (DBA): $50,000–$120,000 - DBAs are responsible for the upkeep of the databases that store all that data.

Data Analyst: $50,000–$110,000 - A data analyst is a quant-focused professional and generally has a BS or MS degree.

Data Scientist: $85,000–$170,000 - A data scientist is an experienced, expert-level professional (there's no such thing as an entry-level data scientist) and are paid accordingly.

Data Scientist/ Analyst Manager: $90,000–$240,000 - When a person rises to the level of manager, pay is often based on the number of people directly reporting to that manager.

Data Engineer: $70,000–$165,000 - The data engineer is the person designing the systems that record and store the data. They must have a wealth of programming knowledge as well as expertise in informational architecture.
Not very surprisingly, some of the highest paid data scientists work at leading tech companies. Here are average salaries at several high-profile organizations:
Google: $152,856
Apple: $145,974
Twitter: $135,360
Facebook: $134,715
PayPal: $132,909
Airbnb: $127,852
Microsoft: $123,328
What are the various data science languages?
Majorly people prefer one of 2 approaches:
Programming Data science with Python
Programming Data science with R
Do you recommend data science with Python or data science with R?
We leave this matter to the experts, although our language of choice and the one we love would be - Python for data science. A terrific infographic is put up by datacamp at the following link:

https://www.datacamp.com/community/tutorials/r-or-python-for-data-analysis
It puts a lot in perspective.
We are extremely biased towards Python for data science since we believe it is application agnostic (unlike R language which is only oriented towards data science and analytics) and has a wide array of applications from web applications and design to data science and more.
Check out below Python for data science cheat sheet uploaded by datacamp! Mighty useful.

https://s3.amazonaws.com/assets.datacamp.com/blog_assets/PythonForDataScience.pdf
What are the various processes involved in data science?
Data Collection
Data Storage
Data Cleaning
Data Analysis
Communication, data visualization
Data-driven Decision
Do you recommend this data science course for beginners?
Absolutely.
It is difficult for us to understand as to why people prefer to learn data science the hard way. A Data science career path is simple but not easy, which is all the more reason why it holds great rewards too.
With Vedasys, you will get solid foundational blocks that will hold you in good stead in this technology arena.
Data science courses have a large and helpful supportive public community too.
What is covered in data science tutorial from Vedasys?
Please refer data science syllabus on the curriculum section to the top.
Do you offer data science online training?
Presently we do not offer data science online training classes.
We believe that offering a data science course online is not the best way to train beginners or career changers. We still believe in the old school method of classroom training where you can actually contact your instructor by the simple raise of a hand.
Having said that, a data science online course is a possibility for students based out of Goa, in the next 6 months.
What is different about this data science tutorial from Vedasys?
The best way to learning anything would be through free channels such as google and youtube. Plenty of free websites and tutorials are available that make it extremely easy for someone to start building their data science future.
However, this comes with 2 important caveats:
Self-discipline: the only person interested in you completing the program has got to be you. you should be capable of tons of self-discipline to make it happen.
Lack of Guided mentoring: Without the important factor of a guide and mentor, it is very easy to lose motivation and go astray.
Vedasys provides strong value through a proven practical-based approach to learning. Our program is aimed at data science for beginners and providing a data science degree in India that actually also helps you learning a thing or two. We start with simple data science projects and ensure you understand important concepts deep and well.
Our classes are held at flexible times - this is important since this ensures you are able to complete the course with strong motivation and not drop out in between owing to work and study related commitments - this happens to 1000s of students. Don't let it happen to you - enrol with someone who cares about your development and is interested in helping you.
What are some of the top data science interview questions?
An excellent collection of the top data science interview questions exists at the following link from datasciencecentral:
https://www.datasciencecentral.com/profiles/blogs/66-job-interview-questions-for-data-scientists
Data science learning is a long-term process.
What are some of the top industry segments that use data science?
Data science and analytics have become a go-to requirement and the following industry segments rely on the same for strong business intelligence.
Banking
e-Commerce
Gaming
Financial services
Manufacturing
Healthcare
Insurance
Pharmaceuticals
Telecommunications
Travel
Government
Increasingly data science internships are also increasingly available where you can learn copious amounts of data science skills through live data science projects.
Vedasys offers one of the top classroom-oriented data science programs in India.
What are some of your recommended Data science books?
If you are serious about learning the best data science courses, doing it through a reliable classroom-based data science tutorials provider should be fine. However, to master this vast field we strongly recommend you to get yourself some good books as references.
Joel Grus, Data Science from the Scratch, First Principles with Python, O'Reilly , 2015
R. Duda, P. Hart & D. Stork, Pattern Classification (2nd ed.), Wiley, 2001
Tom Mitchell, Machine Learning, McGraw-Hill, 1997
Data Science from Scratch with Python - Step-by-Step Guide, Peter Morgan
For many of these data science books pdf format is also available for convenient reading from a single computer screen.
Our data science course is based on real-world, crisp data analytics. Schedule a callback using below form to meet our faculty with any possible questions you might have, and then take an informed decision in the best interests of your career.